SEND EMAIL PRAYER REQUESTS TO ::

info@OakParkChurch.com



OR CALL THE CHURCH OFFICE WITH ANY CURRENT URGENT PRAYER REQUESTS ::

770-478-7887
-------------------------------------------------------------------------------------------------------------------------------------------------
When there is much PRAYER . . . there is much POWER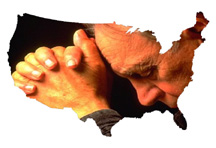 God proves this to be true countless times over!
At Oak Park Church we place a very high priority in the ministry of prayer.
Each month we have FOCUSED PRAYER night on the FIRST FRIDAY of each month.

Each Saturday at 9:00 AM a group joins hearts in prayer for our community.
In our activity-oriented world, it is important for us to learn the art of being still in God's presence.
Prayer is communication with God. The most effective communication is a two-way exchange.
Talking to God is important. Listening to God is just as important.
God seldom yells. He often speaks to us through His Word and through our minds as we are quiet in His presence or as we meditate.

The word "still" in Psalm 46:10 is the Hebrew word "rapah" and means "let go." Read the entire chapter carefully and meditatively. Note the permanence of God in the midst of turmoil -"God is..." in verse 1, 5, 7, and 11. It is important for us to frequently "be still" and let go of all the things that harass our minds and focus on the fact that He is.

David said, "How precious are your thoughts concerning me, Oh God..." Psalm 139:17 NIV. When we think of nothing but God, we can know He is thinking of us. Read Psalm 139:13-18. It is a powerful exercise and experience to be still (let go) and know that He is God. Intercession is God's listening to you. Mediation is you listening to God.

VISIT the World Network of Prayer online at: www.WNOP.com