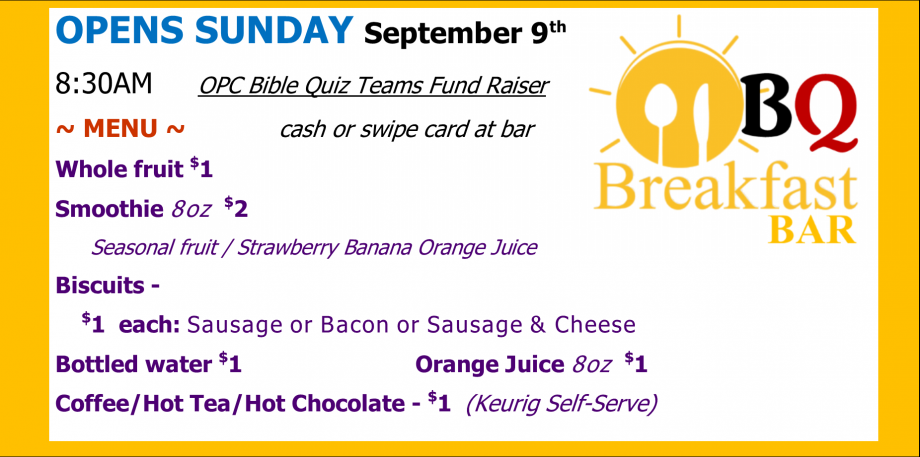 What is Bible Quizzing?
The purpose of Bible Quizzing is to teach students the precious, infallible Word of God.
The ministry of Bible Quizzing provides an incentive for students in the US and Canada to spend hundreds of hours of their personal time each year studying God's Word.
It is unlike any other ministry available.
Coaches—James & Jackie Fitts Loran Cook
<
Contact:
s.loran.cook@gmail.com
>
Bible Quizzing Structure:
Structure of Teams - (age determined by the age of the quizzer on 1/1/2019)
Junior
·
Beginner ages 8 and under — LEARN & QUOTE approximately 180 verses
· Junior ages 9-11— LEARN & QUOTE approximately 275 verses
Senior
· Intermediate ages 12-14 (or first year quizzers)— LEARN & QUOTE approximately 400 verses
· Experienced ages 12-18 — LEARN & QUOTE approximately 500 verses
OPC JR BIBLE QUIZ Team Calendar 2018-2019
September 9 - OPC Breakfast Bar opens!
< funds benfit Quiz Team trips/materials >
September 9 - start weekly practices on Sunday after church



2019 ------------------------------------------------------------------------------------------


January - monthly state tournament at the Georgia UPCI Campgrounds
February - tournament at Disney World in Orlando, FL
March - Regional tournament at Atlanta West Pentecostal Church, Lithia Springs, GA
April & May - monthly state tournament at the Georgia UPCI Campgrounds
June - state finals at the Georgia UPCI Campgrounds
(Depending on State outcome)
July - Nationals in Missouri